The Regional Office of Education #33 has earned their system accreditation by Cognia, which is a nonprofit organization that provides quality assurance for schools, school districts, and education service providers.
Regional Superintendent Jodi Scott informs they were one of the first groups to be recognized and it solidifies the work they have done: "It solidifies the work we are doing and really we have been measured up with national standards, very rigorous standards. External evaluators came in and looked at what we are doing. They decided whether or not we're meeting those standards and where we are. The also offer recommendations for how to continue to improve, which is something we are always striving to do. It is just a very exciting time. We have been working on this for a while now and even after a pandemic and all of the things we have gone through, we were able to accomplish it."
ROE #33 was one of eleven agencies that participated in this process to receive accreditation by Cognia.
About Cognia
Cognia is the parent organization of the North Central Association Commission on Accreditation and School Improvement (NCA CASI), Northwest Accreditation Commission (NWAC) and the Southern Association of Colleges and Schools Council on Accreditation and School Improvement (SACS CASI).
Cognia offers accreditation and certification, assessment, professional learning, and improvement services to institutions and other education providers. The result of the merger of AdvancED and Measured Progress, Cognia was formed to bridge the gap between school evaluation and student assessment. As a global nonprofit working in over 80 countries, our 36,000 institutions serve and support nearly 25 million students and five million educators every day. Cognia serves as trusted partner in advancing learning for all learners.
Find out more at cognia.org.
Watch our Accreditation Journey
Click the image below to open the video in a new tab.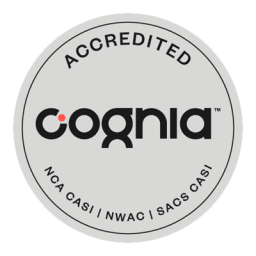 Listen to an interview with Jodi Scott, Lori Loving, Amy Fullerton, and Rebecca Petentleron on
Sunny 97.7 and WRAM 94.1
.